The 9 Unseen Weirdest Pair Of Shoes!
Shoes are necessary item in the daily life. However the fashion taken the shoe beyond the limits of anything that one might not really even call them shoes. The designer shoes or may be weirdest pair of shoe do not fulfill the purpose. Have an insight to a little bit stranger shoes all around the world.
Squid tentacles shoes on your feet
Who could think poisonous tentacles on his feet? But the Filipino designer is famous for his difficult and unique designs. Not only difficult to make but to wear also. There are tentacles all over underside and instead of heels.
Sneaker pants might for the lazy ones
Sneaker pants headway into the world of fashion by Willow Smith and Jaden Smith. The strange enough the sneaker pants are the sort of extended sneakers. Amazingly they are available in any color you may wish.
Everyday objects converted into footwear
Do not rely on traditional shoe designs. Everyday ordinary objects are fit enough to mimic shoe design. Imagine your coffee cup nicely fitted as your shoe with spilling its content. Who says your shoes should always be look like shoes.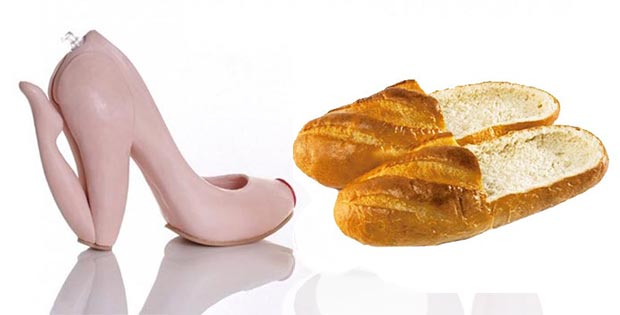 Monster heels
These pointed heels are a good investment if you want to stay away tiny dogs. They have eyes, tongue or anything that can effectively scary monster.
Dentures for the feet
The unusual and creepy shoes with the fake teeth are a weird sight. However these shoes are not meant for wearing. They are called as Apex Predators but sculpture for general admiration. The thousand dentures used in it make it expensive than to visit a dentist probably.
Root or Ramen shoe
The cutting-edge design is all inspire from natural roots, raw ramen or egg noodles. The fashion statement is extremely hard to maintain and clean. Just imagine walking muddy path or in the rain. It's better to walk barefoot then.
Fang heels for Halloween
The potential weapon as shoe  for their wearer. These fang-like shapes are difficult to balance but make self-defense easier.
Shoe with wheels
Weird and whacky shoe. The wheels are supposed to run from scorpion. Making it weirdest pair of shoe.
---
---